Marine Audio
Make sound waves with new audio system, including water resistant receivers, wakeboard tower speakers, amps, and subs. Add custom vinyl graphics and LED lights to make sure you're SEEN and HEARD!
Marine Audio Gear – More than Just a Color Difference
Yes, marine gear tends to be white and/or silver compared to the darker, black products you'd see in your car. But there's a LOT more going on under the surface that you might not know. The elements can be tougher than you think on electronic audio systems.
Understanding the marine-grade designation
First, "marine-grade" does not necessarily mean waterproof. These products are manufactured to withstand elements within marine environments – water splashes or rain, strong winds, and saltwater corrosion – and function long term in those conditions.

How Are Marine Products Built Differently?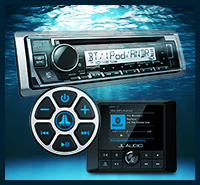 Receivers
Conformal-coated circuit boards to guard against rust, UV protected & water-resistant faceplates.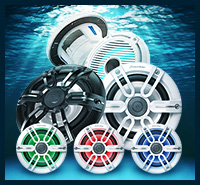 Speakers
Wider dispersion path for greater sound projection, increased power performance, stronger grilles.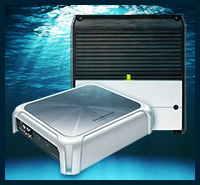 Amplifiers
Rubber caps for RCA inputs, silicone boots for fuses, gasket-sealed front covers, conformal-coated circuit boards.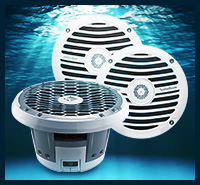 Subwoofers
Waterproof rubber gaskets, sealed motors, UV-resistant cones, and improved magnetic shielding.
Let us help you pick your gear!
There's really nothing better than relaxing or playing on a summer day while listening to your favorite tracks, especially this year. If you have any doubts about which products to choose for your adventure on the waves, just give us a call. Shop all of our marine audio here.